Group I (ages 5 – 7)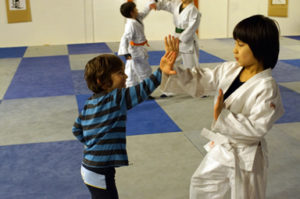 The aim if instruction at this group-level is to allow the children to become more familiar with their own body and with its various possibilities for movement. This class also develops the coordination for different movements and strengthens the child's sense of balance. In this way the child's energy can be channeled constructively. Current training schedule

Teaching program:
• simple warmup exercises
• pedagogical exercises for physical development
• safe landing techniques
• simple Aikido techniques

At Aikido Dojo Südstern your child can take three free trial classes. With three trial classes, your child can get to know our aikido style, our teaching concept and our dojo.